PARTY FAVORS
Party Favors
Casamentos, festas de aniversario, bodas, cha de bebe, cha de panela, conferências ou mesmo qualquer outro tipo de evento em sua vida, sao sempre ocasioes muito especiais, e merecem ficar na memoria para sempre de todos com um toque extra de carinho. Assim sao nossas lembrancinhas. Elaboradas e criadas exclusivamente em nosso atelie, sempre procurando tornar o seu sonho uma realidade.
Fazemos personalizacoes com fitas de diversas cores com emblemas, nomes e datas gravados, copos, tacas, guardanapos personalizados, e muito mais.
Weddings, parties, conferences and events are always special days out, but they can be made even more memorable with a special gift. Whether presented given away in a goodie-bag or simply handed out as a treat during the your event. With our range party favor gifts, your guests, customers, visitors or employees will feel extra special.

Azaleia Flower with Chocolate Truffle ( Options colors: Orange, White or Tea)
Azaleias com Trufas de Chocolate (Cores Opcional: Laranja, Branco ou chá)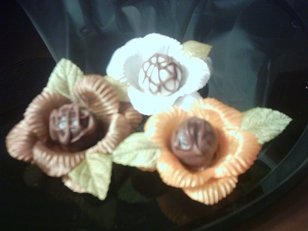 North Star Flower with Chocolate Truffle (Colors Options: Orange, White or Tea)
Flores Estrela do Norte com Trufas de Chocolate(Cores Opcionais: Laranja, Branco e Cha)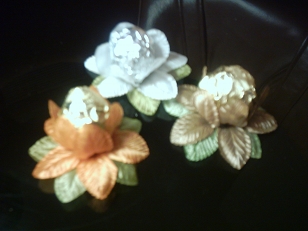 Baby Shower's Favors/ Chá de bebê.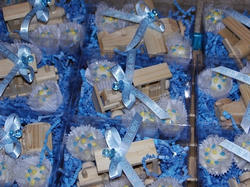 Chocolate Boxes w/ custom Ribbon./Caixa de Chocolate com fitas personalizadas.