Flowers
Flowers / Flores
Receber flores é sempre muito romântico e emocionante em todas as ocasioes. E um ato que demonstra alegria, amor e vida! Se voce gosta de dar flores, nao deixe de visitar nossos arranjos e bouquets.

Todas as nossas flores frescas, selecionadas especialmente para cada ocasiao. Todos os arranjos e bouquet serão personalizadas seguindo o seu pedido acompanhado um lindo laco e o cartao que voce desejar. Temos opcoes de baloes personalizados com a mensagem que voce desejar (item opcional).

*Os modelos dos produtos para os arranjos poderam ser diferentes dos das fotos que sao somente modelos do que fazemos. Os arranjos irao depender dos produtos que teremos em stock no dia da entrega.

* O modelos que levam cestas de vime e caixas poderao ser diferentes dos das fotos que sao apenas ilustrativas; as cestas e das caixas dependerao do nosso estoque no dia da entrega como tambem alguns produtos poderao ser similares aos das fotos em substituicao dos mesmos.

* Entregamos em Massachusetts & Rhode Island somente.
"Wow" is the typical reaction on receiving flowers. Express your caring wishes with gracious Premium Flowers, an elegant blending of lovely color and subtle shades that will bring pleasure to anyone's heart. The Arrangement Flowers makes you wish you could have wandered the fields of dreams and collected them yourself. These are prize blossoms assembled to create the perfect gift for a flower lover.
* The model of the products used to make the arrangement may differ from the one photographed model (is a sample only), depending on the products we have in stock on the date of delivery.
*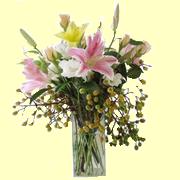 The Cézanne Lilly Arrangement in a Glass Vase is composed with an assortment of pastel colored lillies and lisianthus arranged in a very smart glass vase. It is a sophisticated and different arrangement. The glass vase is shipped with the floral arrangement and will be reused many times, making it a long lasting gift. / O Arranjo Cézanne de Lírios em Vaso de Vidro é um belíssimo arranjo de lírios e lisianthus em tonalidades pastéis, com bolinhas de Sta. Bárbara enfeitando as laterais do vaso. O vaso de vidro poderá ser reutilizado inúmeras vezes e está incluido neste presente.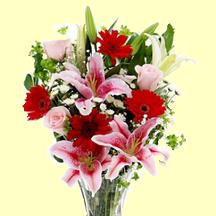 The Quality Arrangement with Mixed Flowers is composed of natural exotic flowers such as lillies, gerbera daisies, carnations and roses, adding a splash of stunning color and cheerfulness wherever you place it./////O Arranjo Quality é composto de flores naturais tais como lírios, gérberas, cravos e rosas formando majestosa composição.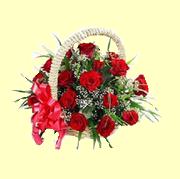 The Wonder Rose Basket contains a selection of 24 beautiful roses (choose red or white) combined with our special green foliage and baby's breath; it is a vibrant and charming gift. The basket also comes with a beautiful bow to match the roses.//// Cesta Alma Gêmea com Rosas é uma formosíssima cesta composta das mais lindas rosas em botão, vibrantes e charmosas; contém 24 botões de rosas e uma seleção de folhagens verdes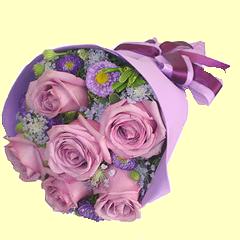 The Fascination Bouquet of 6 purple or pink roses is an elegant, eye catching display of roses and aromatic foliage carefully selected with matching luxury cellophane flower wrap and a hand tied ribbon.///// Arranjo de rosas com flores do campo este bouquet contem 6 rosas, para uma pessoa especial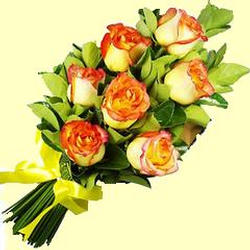 One dozen sensational, fresh-cut natural roses make up the Elegance Bouquet of 7, 12, 18 or 24 Roses. What better way to express your care and affection for that special person? The roses are delivered fresh, budding and ready to bloom forming a truly elegant bouquet of flowers and foliage, wrapped in transparent cellophane and hand tied with a luxury ribbon. ////Arranjo de rosas elegantes com uma duzia ou mais (7,12, 18 or 24) e a melhor maneira de expressar os seus sentimentos, ira em papel cellophane e uma mararavilhosa fita.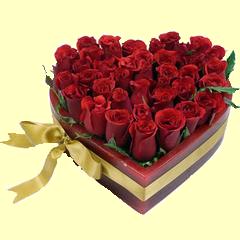 The Cupid Heart of Roses Arrangement is a beautiful and original floral arrangement of natural roses shaped in the form of a heart. Roses have always been considered a symbol of perfection, love and passion, the Queen of all flowers. The Cupid Heart of Roses Arrangement is available with red colored roses. It is a romantic, beautiful and original gift.////Coracao de rosas naturais, este arranjo e feito com rosas vermelhas, indica amor e paz, ideal para um coracao apaixonado...contem 36 rosas.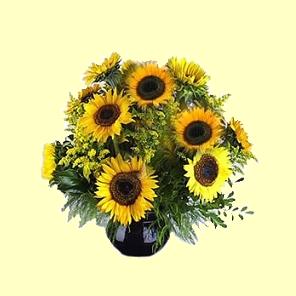 No other flower quite captures summer so well....Sunflowers are synonymous with lightness and warmth. Sunflower Arrangement is a spectacular bunch of big headed beauties sure to awaken senses and brighten anyone's day./ Arranjo de Girassois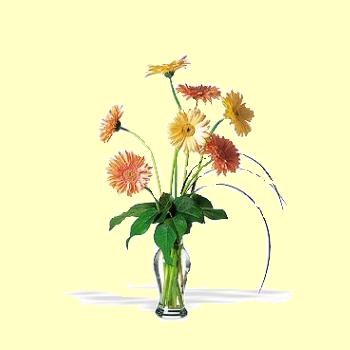 The Gerbera Modern Arrangement is composed of light colored gerbera daisies in a vase (vase is included). The Gerbera daisies are picked at the correct time after they have completely bloomed and will remain looking very fresh in water for several days. Gerbera daisies are decorative and delicate flowers, and the vase that is delivered can be reused many times, making this a lasting and very special gift.////O Arranjo Minimalista Moderno é composto de gérberas colocadas em vistoso vaso colorido (vaso incluido no preço).